Welcome to "GuitarStudy"
I am a Guitar Teacher in Wädenswil, Switzerland and a qualified member of the Registry of Guitar Tutors (RGT). I teach electric and acoustic guitar in a wide range of musical styles to students off all ages and abilities in my home based Guitar Studio.
This site explains my guitar teaching services. The "About Me" page has details of my guitar playing and teaching experience, as well as my qualifications and photos of my guitars and teaching studio. The "Lesson Information" page explains lesson costs, my cancellation policy, my approach to teaching the guitar and information about the RGT and guitar exams. There is a collection of useful links on the "Links" page and the "References" page has references from my students and their parents. I am very grateful for their honest opinions about my teaching and how much fun they have learning to play the guitar!
I hope you find the site fun and useful. Please feel free to contact me if you have any questions regarding guitar lessons.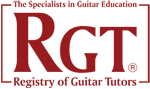 Simon Ashworth, DipLCM
Simon@GuitarStudy.ch
Phone: 079 138 6852
Address: Wädenswil, Switzerland